IELTS (International English language testing System)
www.ielts.org
The International English Language Testing System (IELTS) is the world's most popular English language proficiency test for higher education and global migration, with over 2 million tests taken in the last year.
IELTS assesses all of your English skills — Reading, Writing, Listening and Speaking, and is designed to reflect how you will use English at study, at work, and at play, in your new life abroad.
IELTS is jointly owned by British Council, IDP: IELTS Australia and the University of Cambridge ESOL Examinations (Cambridge ESOL). International teams of writers contribute to IELTS test materials. Ongoing research ensures that IELTS remains fair and unbiased. Test writers from different English-speaking countries develop IELTS content so it reflects real-life situations.
http://ielts.org/pdf/Information%20for%20Candidates_2013.pdf
IELTS Test Components –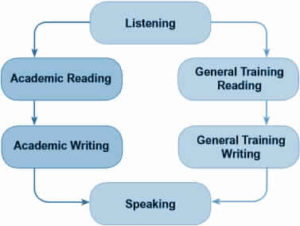 https://www.ieltsidpindia.com/ielts-structure.aspx
IELTS Test Structure.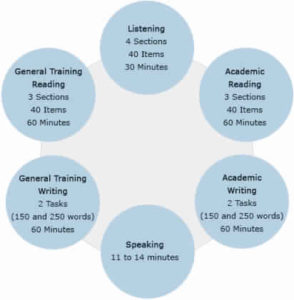 Brief info about IELTS
| | |
| --- | --- |
| Test Taken By: | Undergraduate, Graduate programs & Migration |
| Test Accepted By: | All Countries around the Globe. UK, Australia, New Zealand, Canada , USA |
| Test Conducted By: | Jointly conducted by University of  Cambridge ESOL, British Council & IDP. |
| Nature of Test: | Paper Based Test (PBT) |
| Skills Tested: | Listening, Reading, Writing & Speaking |
| Test Duration: | 2:45 mins |
| Total Test Scores: | 9 band. |
| Validation of Test Score: | 2 years. |
| Official Score Reported: | 13 days |
| When is the Test Conducted ?: | Thrice a month |
| Test Repetition: | Next available date |
| Registration of Test: | British Council Centers |
| Mode of Registration: | Online or Walk-in |
| Document Required for Registration: | Valid Passport (Original) |
| Test Fee: | Rs. 13,250 |
| Mode of Payment: | Demand Draft / Credit Card / Cash |
GRE (Graduate Record Examination)
GMAT (Graduate Management Admission Test)
SAT (Scholastic Aptitude Test)